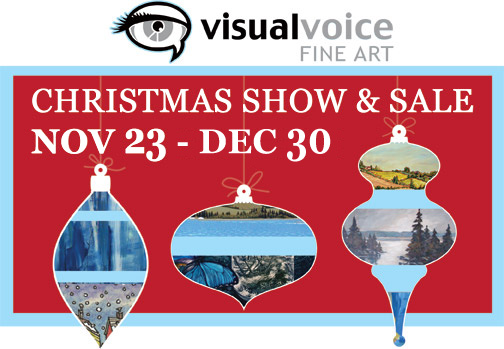 Visual Voice Fine Art's holiday show features works by several artists in a variety of media, priced for gift-giving under $200! Something for everyone!
We offer Interest Free Layaway and Gift Certificates.
Don't miss art show
Landscape of the Inuit: A Collection of Inuit Art
, show ends Saturday, November 16.
OTHER EVENTS:

Our annual
2 DAY
TAX FREE & CRAFT Sale is here again! See what other unique items talented artists can create: Jewelry, hand painted silk scarves, ornaments & more... Everything in the gallery is TAX FREE: fine art, workshops, crafts, and framing.
There will be
free artist demos, tasty treats, and you can enter for your chance to WIN a gift basket worth $125
(enter in each of the 5 Truro's Creative District for more chances to win, for details
click here
). There is a gift basket to be
won each day!
Artist Demo Schedule:
Kristina Sobstad –
Scandinavian Woven Ornaments
demo Friday 11:30am-12:30pm
Kristina Sobstad –
Norwegian Felting
demonstration Friday 1-2pm
Lloyd Klassen –
Wood Carving Techniques
demonstration Saturday 1-3:30pm
Sandy Moser –
Jewel Wrapping
demonstration Saturday 4-5pm
WORKSHOPS:
Fun European traditions to do over the holidays! These kid friendly workshops have limited seating, so book your spot early. All materials are included in the price, the stories and tips are a bonus!



________________________________________________________________________
Looking for a very particular piece of art?
Drop by the gallery, we have more than what is viewable out front. If it is still not what you are looking for, consider having one of our artists create that special piece just for you.
Are you interested in learning about a particular art medium?
Book a private
workshop for you and your friends! Adults or kids, beginner to advanced.
Great for kids birthday parties!
10% discount on groups of 10 or more persons.
Questions about our Workshops?
Click
here
to find the answer.
Visual Voice is located at
128 King Street
|
Downtown Truro
|
NS
(902) 843.9464
Gallery Hours:
Monday, Wednesday, Friday, & Saturday from 12:30 to 5pm
or by appointment.